Industrial Division
Through its "Zero Solid Waste" Program, the Foundation has actively promoted recycling by industry and has set up several dozen such programs in Puerto Rico with major corporations such as Johnson & Johnson, Owens Illinois, Colgate-Palmolive to name a few. In addition, it created the first "Blue Bag" program in Puerto Rico and has sponsored many other recycling collection centers. In 1995, it was directly involved in the positive disposition of over one thousand tons of glass, plastic, rubber tires, cardboard, paper and aluminium.
Together with the Caribbean Hotel Association and American Express, the Foundation developed the "GREEN HOTELIER" AWARD with over 1,400 hotels and resorts throughout the Caribbean participating. Last year's award for overall environmental excellence was won by the Half Moon Bay Resort in Montego Bay, Jamaica. The 1996 finalists include 19 hotels located in Cuba, Guyana, the Bahamas, the British Virgin Islands, Jamaica, St. Lucia, Curacao and the Dominican Republic. The Winners were announced on June 6th at the Caribbean Hotel Association's Annual Conference held at Paradise Island in Nassau and once again the Half Moon Bay Resort took top honors. Other winners included Punta Cana Beach Resort in Haguey, Dominican Republic.The 1997 Overall Winner was once again the Half Moon Resort in Montego Bay, Jamaica. (see related story under the Projects Section)
In July 1996, the Puerto Rico Hotel and Tourism Association selected the Foundation Hotel Environmental Award concept for use with their members and the first award was created for presentation during their annual convention in September. The program was designed to recognize the hotel doing the most to recycle its waste. The winner was the Fajardo Inn, a small Inn on the east side of the Island. Runner up was the giant Caribe Hilton in San Juan. For this year, the 1997 Award did in fact go to the Caribe Hilton. Of the 19 participants in 1996, the property judged the most improved was the Lazy Parrot Inn in the west coast town of Rincon.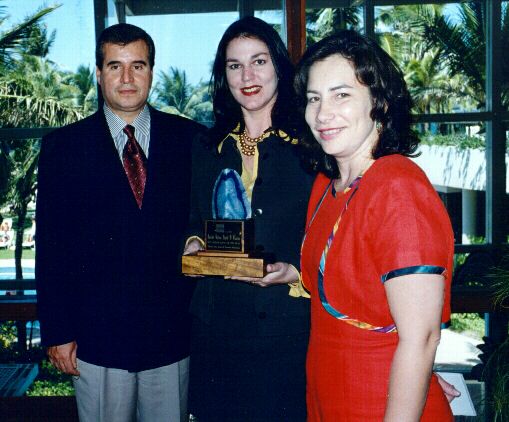 Receiving the PRHTA/AMEXCO Environmental Award for 1997
from left to right:
Raul Bustamante (GM and Director Hilton International P.R.), Maria Elena Perez (Public Relations Director, Caribe Hilton) and Ydsia Ferrer (Chief Engineer, Caribe Hilton)
For its efforts in Environmental Stewardship and Recycling Leadership in the Municipalities of Puerto Rico, the FOUNDATION was awarded a Certificate of Thanks and a $15,000 donation from the Johnson & Johnson Group of Companies under their "Alliance for Our Well-Being" Program.
BACK TO HOMEPAGE